Materials Required
Trampolines come in different shapes and sizes. Mini trampolines are handy for exercising indoors. In order to learn how to backflip safely, however, you'll need a full-size model, like the Zupapa TUV Approved Trampoline—which we fell in love with during testing for our reviews of the best trampolines for adults.
You'll need plenty of room to jump, fall, and roll around as you try steps leading up to and then executing a backflip.
How big?
Be sure the full-size trampoline model you'll practice on is constructed to handle adults, not just kids. According to the National Center for Health Statistics, in the U.S. in 2017, the average adult male (20 years and older) was 69.2 inches tall (convert) and weighed 195.7 pounds. The average female was 63.7 inches tall (convert) and weighed 168.5 pounds.
With that in mind, your trampoline should have ample surface area for your movements–at least 12 feet or more.
Also, follow your trampoline's maximum weight restriction. It should have a minimum weight capacity of 300 pounds or greater. If you and another adult are going to be jumping on the trampoline at the same time, definitely make sure it can hold your combined weights and more.

Uh-oh
If the trampoline starts moving or groaning under the weight, you know that there is much weight on it!
And there's more:
Other protective features that make jumping on the trampoline joyful, not injurious, include:
●      a heavy-duty safety net enclosure (usually included) that surrounds the trampoline to prevent users from flying or falling off
●      adequate padding (also, usually included) to cover exposed springs, metal framing, and poles.
●      a trampoline skirt (usually sold separately) like this one to deter anyone from climbing and hiding under as well as storing items under the trampoline
●      a ladder (usually sold separately) like this one for climbing down–instead of leaping off–the trampoline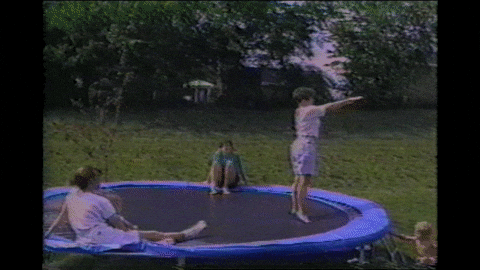 A Few More Safety Tips
Set up the trampoline on level ground in an open area, not near any trees, poles, fences, buildings, etc. If you live in a windy area, secure your trampoline to the ground with wind stakes (here is an example).
Plus, rain and moisture from condensation can make the surfaces slippery, so you may need to dry the jumping area before starting.
Finally, before hopping onto the trampoline, stop and inspect it to make sure all parts are sturdy, in place, nothing is amiss, and everything is safe.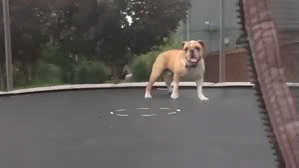 One last note:
Adults–please, please, please don't drink and jump. If you are under the influence of alcohol or medications (especially those you shouldn't be operating heavy machinery when you take) or feel dizzy and drowsy, postpone the trampoline session to another time. You want your balance to be optimal when jumping on a trampoline.
Learn How to Do Backflip on a Trampoline: The Breakdown
Now that we've got all the serious warnings out of the way, let's jump into fun stuff–learning how to do awesome backflips on your trampoline.
Believe it or not, executing a backflip is physically easier but psychologically more difficult than a front flip. Natural protective instincts and your brain prevent you from automatically trying something when you can't see where you're going and might land on your head!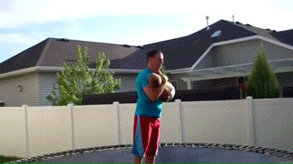 Pretty cool, huh?
It is.
But…doing a backflip on the trampoline requires confidence.
To help, we've broken the process down into five parts:
the backdrop
the backward roll
the over-the-shoulder-handspring
the back handspring
the backflip!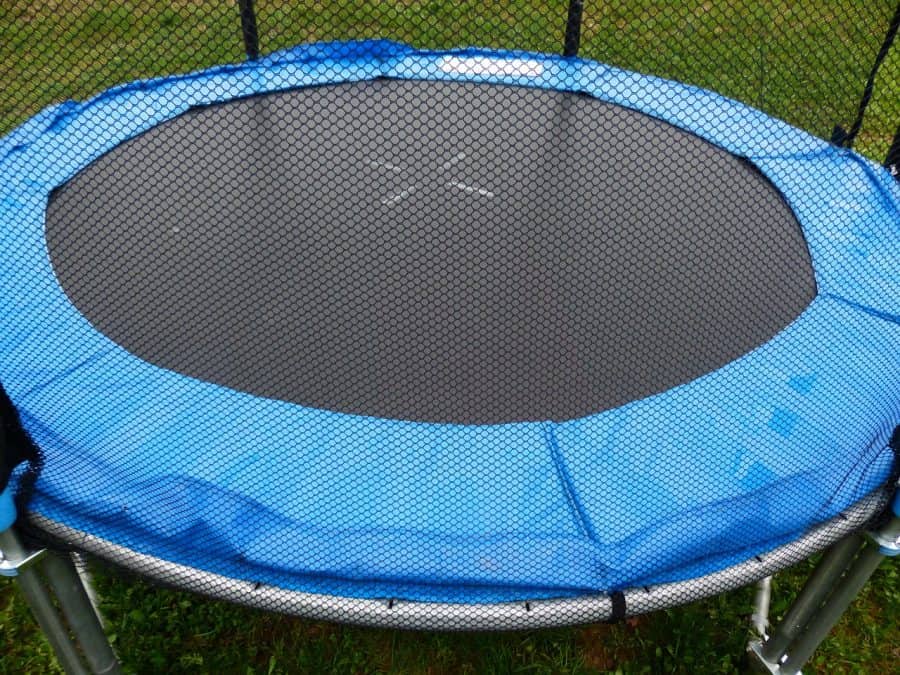 Expert pre-flipping tips:
Enlist a partner to spot you as you progress into the later steps below; whenever you feel you need a spotter to stay safe, ask a someone for help.
Strengthen your back, neck and stomach muscles. You use them when executing a backflip, so the more you're in shape, theoretically the easier learning a backflip will be. If you already regularly do crunches, pull-ups, and chin-ups, great!
Remember: don't throw your head back. Keep your head centered, aligned with your body, and in a neutral position. For protection, you don't want to land on your head or for your head to hit the trampoline before your back does.
Before you get started with your backflip practice, it's important to warm up your body. Get your blood and muscles moving by bouncing around on the trampoline. Then increase to jumps, stretching out your legs.
Heck, let loose and try a few tuck jumps and straddle jumps.
Once you're warmed up, stretched out, and feeling froggy it's time to try some backflips!
Step 1: The Back Drop
Stand in the center of the trampoline's jumping area to give yourself plenty of room. Fall on your back (but don't throw your head back) and then bounce right back up.
If you aren't sure how to do a backdrop, think of it as an advanced seat drop, where you land on your back instead of your behind before bouncing back up into a standing position.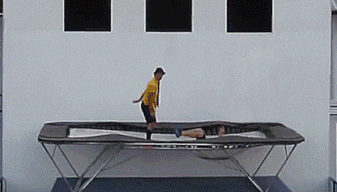 Step 2: The Backward Roll
After you've mastered the backdrop, instead of bouncing right back up again when you fall onto your back, gently throw your legs over your head and roll over backward in a small, slow somersault.
When you feel comfortable with a simple backward roll, try using momentum and bounce to rotate backward and onto your knees, and then feet.
Step 3: The Over-The-Shoulder or Sideways Handspring
Think of it as a back handspring that's a bit off to the side, which may seem less scary.
To give yourself more room, start a little away from the trampoline's center. You'll want to rotate and land in more in the middle of the trampoline.
Bend your arms at the elbows and envision them going up and over your head, propelling you backward and fully around.
Look behind you.
Start bouncing, get a good bounce going, and then jump up straight.
At the jump's highest point of your jump, propel yourself backward, up and over your shoulder and try to land on your hands … but initially, really don't worry about how "neat" your landing is. Landing on your hands and then knees is fine–you're just learning and getting used to the backward flipping motion.
Step 4: The Back Handspring
When you're comfortable with the over-the-shoulder handspring, try the regular, straight back handspring. Take the same preparation steps but this time, instead of aiming over your shoulder, look up and then behind you.
You want to jump up and then rotate. Think up and around.
Don't just propel yourself backward or throw your head and/or body backward.
Continue practicing this move until you can land on your hands and feet. Jump higher and rotate your abs and hips with enough momentum to get your feet around completely for the landing.
Think of looking up and back into the sky to spot the trampoline.
Be patient and stop if you become tired and/or frustrated. Give yourself a break and try another time.
Step 5: The Backflip
When you're comfortable with the back handspring, try the backflip. For this move, remember the goal is to jump up high, rotate in a full circle, and land on your feet.
Before you reach this goal, however, don't worry about how graceful your landing is.
Think momentum! Use your legs to bounce and arms to propel you up and then around.
For even greater momentum, when you're at the peak of your jump and starting to rotate backward, bend your knees, tuck in your legs, and pull in your arms to wrap them around your bent legs.
When you rotate backward enough to spot the trampoline, release your arms and untuck your body to prepare for landing.
If you land on your hands and knees without hurting yourself, that's a great start!
Keep practicing and try to land on your feet and hands, and then, finally, just on your feet.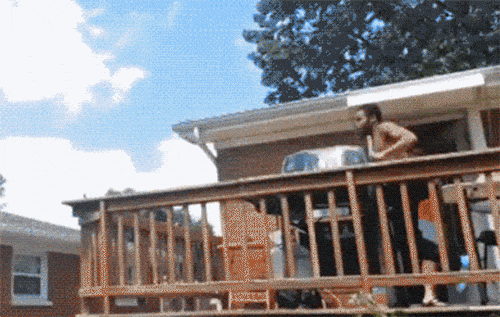 Always remember, if a step makes you uncomfortable, take a breather. Allow yourself time to grow comfortable with each step. Never force yourself if you don't feel ready.
Final parting safety shots:
If you find that you're twisting or dropping a shoulder, stop and take a break. Your fear of going over makes you compensate by twisting. Return to practicing the backdrop and then throwing your legs over into a backward roll. These actions will help prepare your brain and body for the backward rotation movement.
When it to comes to breaking a fall while learning a backflip, experts don't all agree whether or not you should automatically stick your arms out to break the fall. You could break your arms and/or wrists. While flipping, if you feel like you're not completing the rotation, here is some advice depending on at what point you're in the flip:

If you've rotated more than halfway around (and maybe can even see the trampoline) and are going to fall on your front, if possible, try to fall forward into a frog position to distribute your weight.
If you've rotated less than halfway around and are going to land on your head or neck, then put your arms out. Broken arms/wrists and/or dislocated shoulders are certainly better than an injured head, neck or spine.
If you've rotated less than halfway around and are going to fall onto your back, then try to tuck and land on your back on the trampoline's soft surface.

If you don't feel completely confident or comfortable, don't try a backflip. Head, neck, and spinal injuries, as well as death, are possibilities, so be careful.
Take a peek
Here are a few instructional videos that break down how to do a backflip on the trampoline (but don't rush it despite the videos' titles):
●      Learn How to Backflip On a Trampoline In 5 Minutes
●      How to Do a Backflip on a Trampoline in 10 minutes
For people especially nervous and/or frustrated, the young instructor in the video How to Easily Get Over Backflip Fear! is supportive, encouraging, and sweet. He even shows what you'll see when you flip from the point of view of a person flipping.
More Fun Trampoline Exercises
Whether you learn how to do a backflip or not, you can reap many health benefits from jumping on a trampoline. Exercising on the trampoline provides a cardio, aerobic workout that tones muscles, improves balance and coordination, increases bone density, and more.
In fact, researchers at the American Council on Exercise (ACE) discovered that "bouncing on a mini trampoline for less than 20 minutes is just as good for you as running, but feels better and is a lot more fun." People tested suggested that "the workout felt easier than it should have."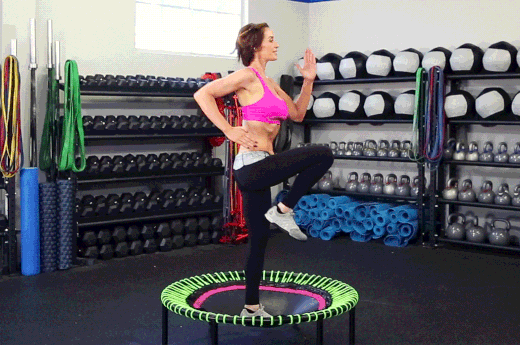 Whoa. How often do you feel that when exercising?
Another plus of trampoline exercise is how low impact and gentle on your joints they are. While conditioning your calf and leg muscles, trampoline jumping is easier on your feet, knees, and more because the trampoline absorbs some of that shock you would feel while running on pavement.
Burn It Off
Jumping for 30 minutes on the trampoline can burn off up to 160 calories! Why not try some of the exercises from WebMD below?
Basic Bounce Exercise (which tones gluteal muscles, quadriceps, and calf muscles): stand with your feet around six inches apart, bend your elbows and knees (slightly), and bounce up and down gently. Elevate your feet a few inches above the trampoline. Do this 30 times.
Prances: stand (feet separated about six inches apart) and slightly bend your arms and knees. On the balls of your feet, bounce and lift your right knee, and then your left knee (alternating sides) up to hip height as if you're jogging in place. Continue doing this 60 times, for a total of 30 lifts for each leg.
Squats: stand feet together with arms at sides. Jump up, open your feet to slightly wider than your shoulders, and then land squatting with knees bent and thighs parallel to the ground (like sitting in a chair). Hold your arms in front and straight. Then gently bounce to return to the starting position. Do this 20 times.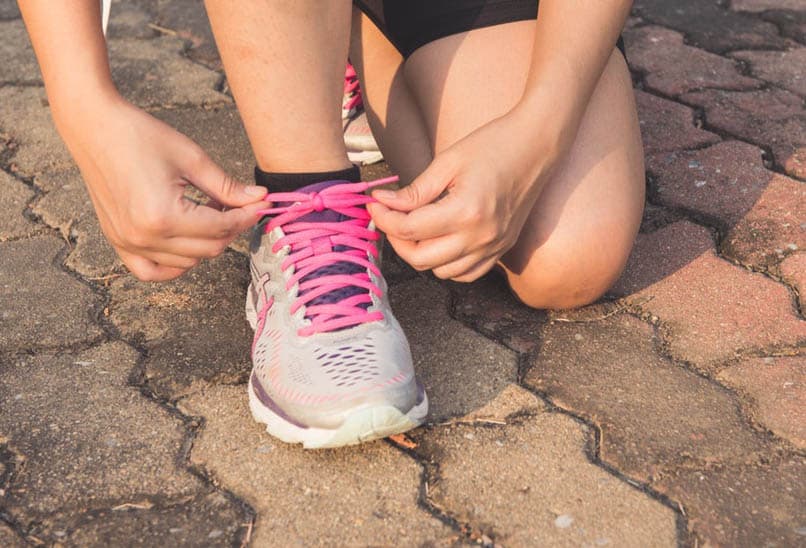 Another idea: the 30-minute workout
March in place to warm up (two minutes).
Jog in place (20 minutes).
Jump in place (three minutes).
Do Jumping Jacks (three minutes).
March in place to cool down (two minutes).

Bounce and Bye-bye!
Learning how to do a backflip on the trampoline can be rewarding but dangerous, so be careful. In any case, just bouncing around on the trampoline is just plain fun!
What Do You Think?
Do you already have a trampoline and tried to learn a backflip? Do you already know how to do a backflip on the trampoline? In any case please let us know what you think or if you have any corrections, comments, or additional tips. We love to hear from readers.